Mountain Oaks Home Owners Association


MOHA - Colorado Springs
Firewise/Free Chipping
Did you know?
from Dave Luken, our Firewise representative for MOHA:
Homeowners, please keep track of your costs incurred and hours of work for all fire mitigation projects, including free chipping in October, as these can be applied as a credit to the entire HOA to contiue our certification for next year. Hours and costs can be turned into Dave Luken.
Click Here for income tax guidelines: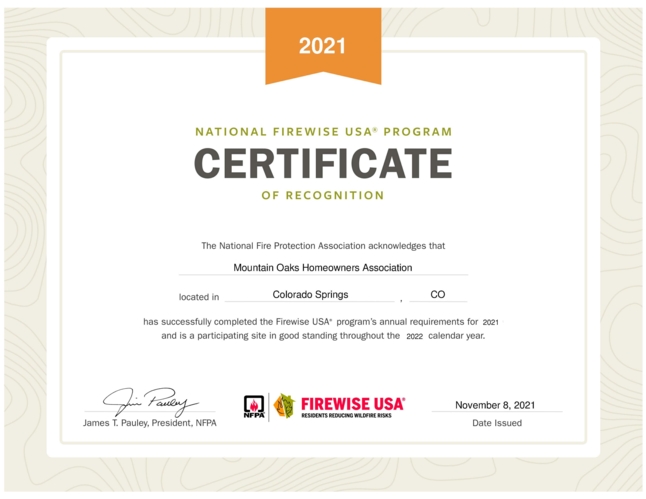 Dave Luken is our Firewise contact with the Colorado Springs Fire Department. The certificate above certifies we are an approved Firewise neighborhood for the 2021-2022 calendar year. Homeowners may want to contact their homeowner's insurance company and inform them they live in a Certified Firewise Nieghborhood, as their insurance company may give them a discount on their annual premium. Dave was informed by the CSFD that USAA gives a discount and several other insurance companies were considering it and may have approved a discount at this time.
Free Chipping!
The Neighborhood Chipping Program sign-up website is now ACTIVE.
From our Fire Department coordinator Melissa Hoffman:
Here is the link to chipping sign-ups: https://arcg.is/O0Kei0
Note about website: There is a new feature. About half way down the form, you will see a map. If you have a resident that is unsure of what neighborhood they fall into (I know the boundaries we use are odd), they can use this tool. At the top of the map there is a box that says "Find Address or Place". They can type their address into this box and it will pull up the neighborhood that they are in (according to our Neighborhood Chipping Program). (Note: We are Mountain Oaks.)
Couple of notes I want to touch on for this year:
Residents can sign-up at any time. If your chipping date isn't until October, that is completely fine. Residents are still welcome to sign-up today. Better chance they won't forget to do it then.
Please remind residents that they must sign-up if they want their piles chipped. If they do not sign-up, their piles will not be chipped by us. I know in the past we have been lenient with residents if they forgot to sign up. However, that will not be the case this year. With the program expanding and the number of people that we now service, we simply do not have time and we are not allowed to pick up piles that aren't registered.
Piles need to be within 5' of the road, stacked in 5'x5'x5' dimensions with cut ends facing the road. They can do as many piles as they want, but they can't do a single, 20' long pile of slash. We will not chip that.
If you have any questions, please let me know.
Looking forward to another great year with you all!
Melissa Hoffman
Wildfire Mitigation Program Coordinator
Colorado Springs Fire Department
375 Printers Parkway
Colorado Springs, CO 80910
As part of the tagline "Sharing the Responsibility" the Wildfire Mitigation Section is dedicated to helping neighborhood organizations and homeowner's associations address wildfire risk. The CSFD neighborhood chipping service offers homeowners free curbside chipping and hauling when they do mitigation work on their own property.
To participate, homeowners must attend a wildfire mitigation meeting or schedule a free on-site consultation before the chipping date. (If you have done this in the past 5 years, that is sufficient.) This is done to engage neighborhoods and educate homeowners on wildfire mitigation concepts. The intent of neighborhood chipping is not debris removal, landscaping or cleanup. Rather, the intent is to reduce the risk of wildfire, modify fuels adjacent to structures and reduce fire behavior in the event of a wildfire. To schedule a free on-site consultation call the CSFD Wildfire Mitigation office at 719-385-7342. You can check the website for free firewise classes.
Participants are asked to attend a meeting or have a consultation for the purpose of reducing the risk of wildfire, modify fuels adjacent to structures and reduce fire behavior in the event of a wildfire.
It is a great way to get your tree and shrub debris cleaned
up by simply stacking bundles at the curb on the pickup
week. Note that your piles must be stacked curbside by
8:00 am Monday morning of our designated
chipping week and each bundle is limited to 5'x5'x5' with
diameter of logs no more than 9 inches. Incorrectly stacked
piles WILL NOT BE PICKED UP.
What's Acceptable:
Pile Guidelines:
To view a copy of the Chipping Guidelines Click here.
Performing Wildfire Mitigation on your property
Firewise Recommendations:
Remove dead wood and downed trees.
Do not clear cut area. Remove smaller trees and brush from under trees that are to remain.
Do not remove root systems of the trees that have been cut down. This will help hold the soil and prevent erosion.
Stagger clumps of trees – so there is space between clumps and there is not a consistent pattern.
Remove tree limbs up to 1/3 the height of the tree. This will prevent or reduce the possibility of ground fires setting fire to the tree limbs.
For the grass in the area, it is recommended that in the fall, someone cut the grass with a weed whacker, leaving it as ground cover.
Leaving a depth of 4 inches of chipped limbs and brush is acceptable because it suppress grass fire and maintains ground moisture.
Colorado Springs Fire Department Wildfire Mitigation Information Guide
Wildfire Mitigation Website:
Wildfire Risk Parcel Website:
Neighborhood Chipping Sign-up
Contacts:
Ashley Whitworth
Program Administrator
(719) 385-7342
Ashley.Whitworth@coloradosprings.gov
Melissa Hoffman
Program Coordinator
(719) 385-7493
Melissa.Hoffman@coloradosprings.gov
Cory Ashby
Program Coordinator
(719) 385-7281
Cory.Ashby@coloradosprings.gov
Aaron Johnson
Lead Fuels Techncian
(719) 385-7367
Aaron.Johnson@coloradosprings.gov
Adam Wisely
Lead Fuels Technician
(719) 385-7368
Adam.Wisely@coloradosprings.gov
Melissa Hoffman
Wildfire Mitigation Program Coordinator
Colorado Springs Fire Department
375 Printers Parkway
Colorado Springs, CO 80910
Office: 719.385.7493
Fax: 719.385.7334
"Sharing the Responsibility"
"The mission of the Colorado Springs Fire Department is to provide fire, emergency, and prevention services with professionalism, compassion, and excellence."